A huge collection of 3400+ free website templates
www.JARtheme.COM
WP themes and more at the biggest community-driven free web design site
Portable PumpOut Systems

Keco's Portable PumpOut Systems are built with the customer in mind. Designed to be wheeled slip-side, these systems are intuitive to operate and simple to maintain. Keco's portable MarinePumpOut systems are available with storage up-to 55-gallons and can be outfitted with Electric (AC/DC), Gas, or Hand Operated Pumps. Keco has also pioneered a Self-powered Marine PumpOut cart which utilizes a Battery Bank to power the motorized cart and onboard pump. Keco's Portable PumpOut systems provide convenience and flexibility without the added cost of a permanent infrastructure. Waste can be discharged directly to your Sewer Connection, or transported to an auxiliary pump for offload. Overfill protection comes standard on all Gas and Electric models to help prevent unwanted spillage.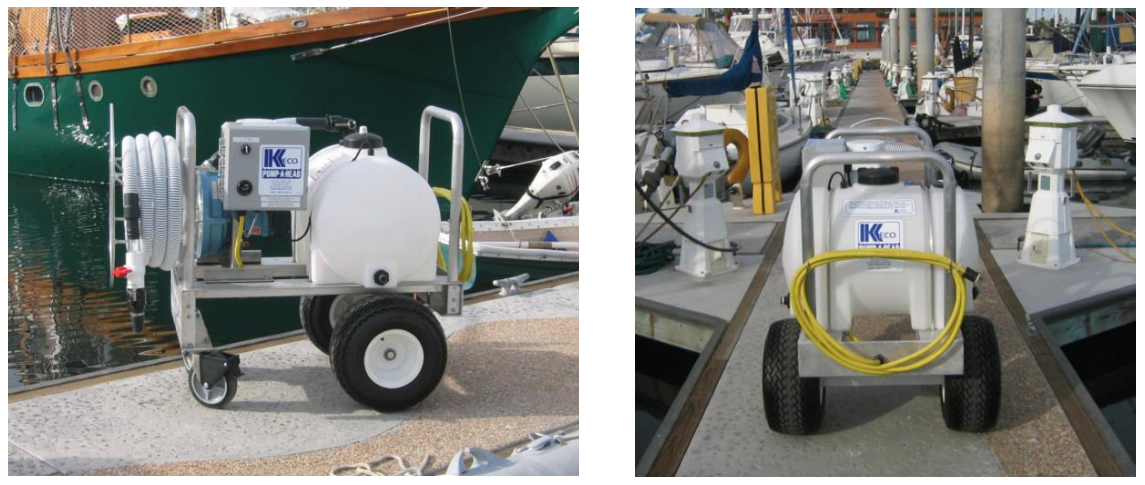 The Benefits

Requires No Infastructure
Storage up to 55 Gallons
Light Weight Construction
Easy to Manuever

Intuitive to Operate
Low Maintenance
Overfill Protection
Vacuum or Pressure Offload
---
Portable Systems Features

Modular Frame
Quickly builds up suction to start pump-out operation, no need to fill the hose with water to prime the pump.

Marine Grade
Pump frame has a three-part epoxy coating to prevent corrosion. All wetted surfaces have an applied coating to prevent deterioration of component pump parts.

Flexible Offload
An enhanced flow channel in the pump bowl allows suspended solids and fluids to move efficiently thru the pump and decrease clogging.
Saftey Features
Totally Enclosed Fan Cooled, Explosion Proof, and DC Motors available on most models depending upon installation requirements.

Pump Selection
Not all marinas are designed equally, nor does one pump fit every application. Selecting the Right Pump is critical in ensuring years of trouble free operation. Site specifics such as Pipe Size, Suction Length, Suction Lift, Discharge Length, Discharge Head, Hazardous Zoning, Power Supply, Projected Usage and Flow Rates should all be taken into consideration.